Commercial Lighting Installation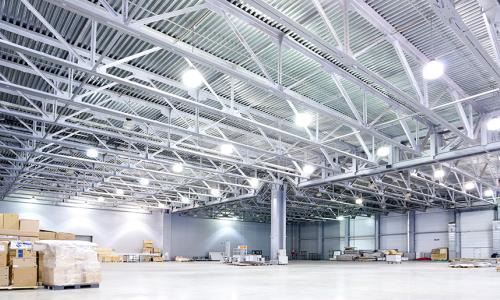 From the ceiling lights in offices, factories and warehouses, to the security and emergency lighting systems keeping staff and visitors safe, a professionally fitted commercial lighting installation is an essential part of any commercial property. 
Paradigm Electrical Solutions offer professional commercial lighting installations for offices, warehouses and industrial settings. Our team of fully qualified electricians will use their extensive experience to design and install a high quality, effective commercial lighting system tailor-made for your property.
Commercial Lighting Installation Designed for You
When planning a commercial lighting installation, it is important that your electrician has experience in a variety of business settings and can design a system that works effectively for your workspace. All businesses require excellent lighting to allow their staff to work safely and efficiently. 
A large space will need a lighting system that illuminates the entire area uniformly. An LED lighting installation would be the optimal choice. This applies to premises with either High Bay Lighting or Low Bay Lighting. Different lamp types, reflectors and optics would be used depending on your roof height. 
An office or shop floor will require lighting that is comfortable to work under for extended periods. Poor lighting can cause headaches and eyestrain and will reduce productivity over time. With an LED lighting installation, the lighting is constant with no flickering and therefore the light is far more comfortable.
Paradigm Electrical Solutions can provide the expertise and experience to design and fit your commercial lighting installation.  
Commercial LED Lighting Installation
Lighting represents a significant percentage of your company's electricity usage.  Finding a commercial lighting installer who can design and fit an effective, energy efficient system will have a long-term impact on your electric bills. Commercial LED lighting can represent a saving of 80% in energy expenditure in comparison to fluorescent and halogen lights.  This makes a commercial LED lighting installation not just energy efficient but cost effective too.  LED lights have a lengthy lifespan – up to ten times that of a fluorescent bulb. An LED lighting installation will keep you cooler too as no heat is emitted by the system. This can represent a large saving in air conditioning costs and an increase in comfort for you and your staff.
Did you know that commercial LED lighting installations are included in the Enhanced Capital Allowance scheme? Dependant on the installation, you may qualify to offset the total cost against your taxable income. You could also reduce your liability under the climate change levy.
Paradigm Electrical Solutions are your local, experienced and fully qualified commercial lighting installers. Contact us today to discuss all your commercial lighting installation needs.